ZYfire Oneflex NBR layflat hose
>
>
>
ZYfire Oneflex NBR layflat hose
ZYfire Oneflex NBR layflat hose
Description: ZYfire Oneflex NBR layflat hose is a good choice for firefighters. This hose features: tough durable and very abrasion resistant, resistance to oil, fuel and a wide range of chemicals, resistance to heat, UV and ozone, has excellent adhesion between rubber and textile, no cleaning and drying is required and easy to repair.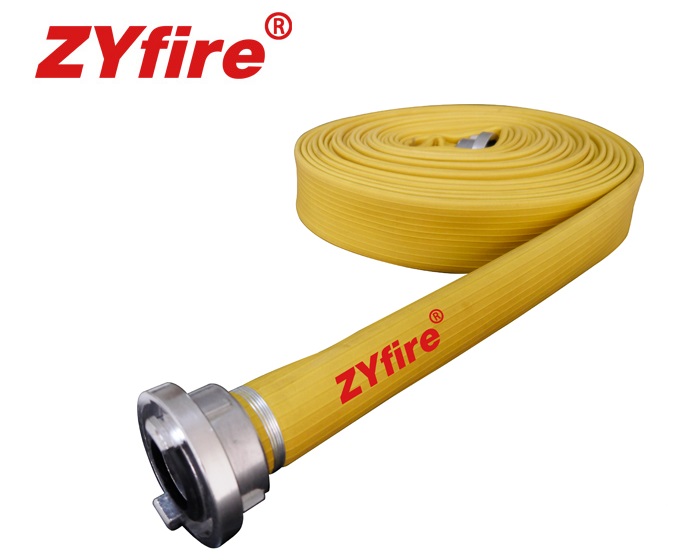 Applications: refineries, chemical industry, military, fire brigades, marine and offshore installations, fire hose for usage under tough conditions.
Construction - Textile Reinforcement: Warp - high tenacity polyester. circular woven. Special weaving design to minimize pressure loss. Totally embedded in the rubber compound providing excellent protection against mechanical damage.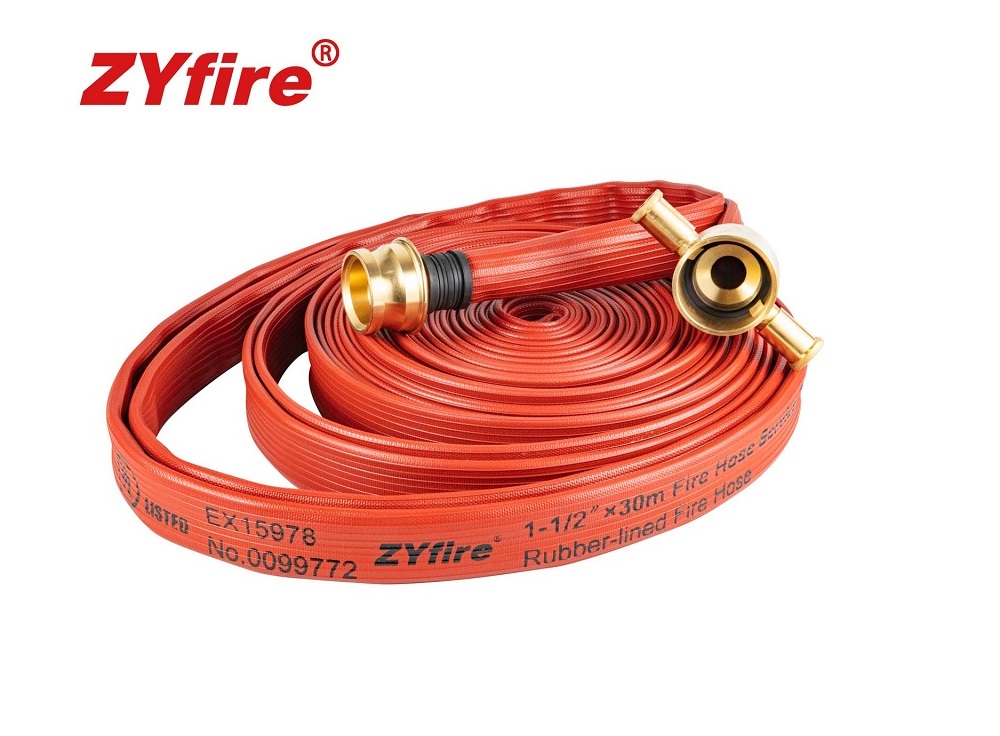 Construction - Lining/Cover: Special high grade formulated NBR/PVC compound. Inside is very smooth for minimum friction loss. Outside is ribbed for good abrasion resistance and protection against contact heat.
Standard Length: 15m (50ft), 20m (66ft), , 30m (100ft), 60m (200ft), 90m (300ft), 200m (660ft).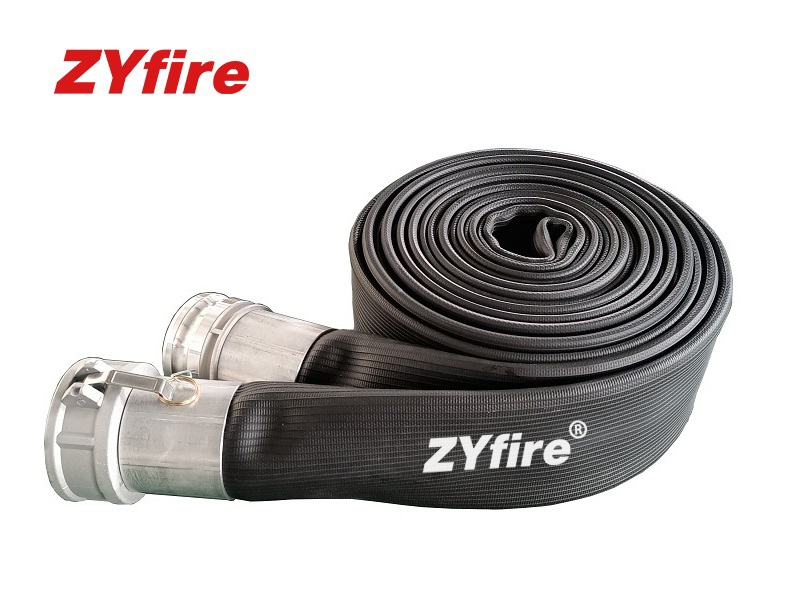 Note that a minimum order of 1,000 m (3,300 ft) per dimension.
Standard Colour: Black, Yellow, Orange, Blue.
Valid Standards: BS6391 Type 3 / DIN 14811 / NFPA 1961 and other national standards.
| | | | |
| --- | --- | --- | --- |
| ID | ID | Service Pressure | Minimum Burst Pressure |
| inch | mm | psi/bar | psi/bar |
| 3/4" | 19 | 200/14, 220/15, 250/17, 300/21, 400/28 | 600/42, 660/45, 750/51, 900/63, 1200/84 |
| 1" | 25 | 200/14, 220/15, 250/17, 300/21, 400/28 | 600/42, 660/45, 750/51, 900/63, 1200/84 |
| 1 1/2" | 38 | 150/10, 200/14, 220/15, 250/17, 300/21 | 450/30, 600/42, 660/45, 750/51, 900/63 |
| 2" | 50 | 150/10, 200/14, 220/15, 250/17, 300/21 | 450/30, 600/42, 660/45, 750/51, 900/63 |
| 2 1/2" | 65 | 150/10, 200/14, 220/15, 250/17, 300/21 | 450/30, 600/42, 660/45, 750/51, 900/63 |
| 3" | 75 | 150/10, 200/14, 220/15, 250/17 | 450/30, 600/42, 660/45, 750/51 |
| 4" | 102 | 150/10, 200/14 | 450/30, 600/42 |
| 6" | 152 | 100/7, 150/10 | 300/21, 450/30 |
| 8" | 204 | 100/7, 150/10 | 300/21, 450/30 |
| 10" | 254 | 100/7, 150/10 | 300/21, 450/30 |
| 12" | 306 | 100/7, 150/10 | 300/21, 450/30 |
| 16" | 408 | 100/7, 150/10 | 300/21, 450/30 |
Get the latest price? We'll respond as soon as possible(within 12 hours)