ZYfire Oneflex Premium Through-the-weave NBR hose
>
>
>
ZYfire Oneflex Premium Through-the-weave NBR hose
ZYfire Oneflex Premium Through-the-weave NBR hose
ZYfire Oneflex Premium is kind of through-the-weave Nitrile Rubber(NBR) covered hose. Oneflex Premium hoses are made from 100% high tenacity synthetic yarn circular woven, completely and totally embedded with NBR/PVC compound, excellent protected against mechanical damage, forming a single homogenous construction without the use of any glues or adhesives of any type.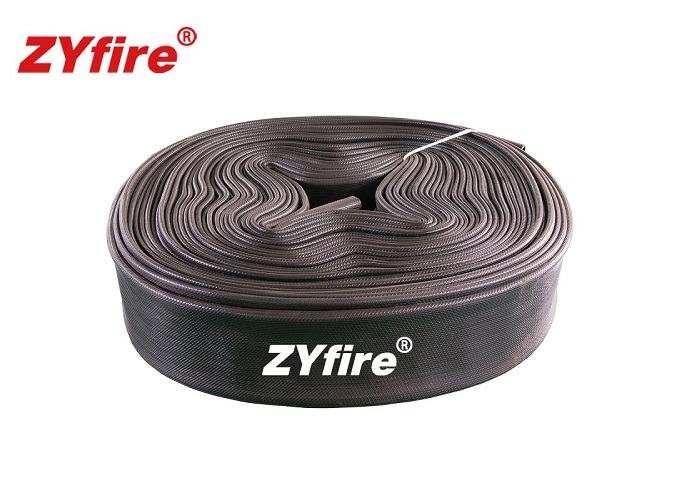 Features
Inner tube: Very smooth with minimum friction loss
Cover: Ribbed for more abrasion resistance
Reinforcement: Circular woven polyester jacket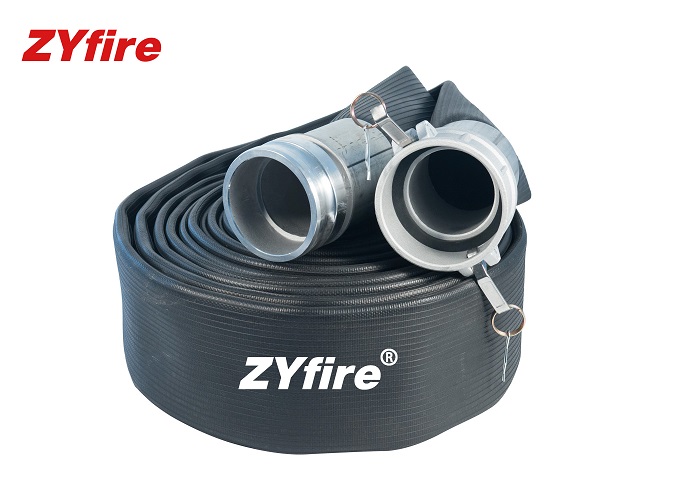 Applications
Water discharge, Transfers, Drainage, Irrigation installations, Pumping of sludge and liquid fertilizers, Chemical industry, Refineries, Air pressure Premium Solution.
Standard length: 15m (50ft), 20m (66ft), 30m (100ft), 60m (200ft), 90m (300ft), 200m (660ft), 300m (990ft)
Temperature: -25℃ to +100℃ (-13℉ to 212℉)
Tolerance

Wall Thickness

Service
Pressure

Minimum
Burst Pressure

Elongation
At WP%

Expansion
At WP%

Temperature
Range

inch

mm

mm

inch

mm

psi

psi

max

max




3"

76

76-78

0.118±0.008

3.00±0.20

200

600

≤5

≤5

-30℃ to 80℃

-22℉ to 176℉

4"

102

102-104

0.126±0.012

3.20±0.30

200

600

≤5

≤5

6"

152

154-157

0.126±0.012

3.20±0.30

200

600

≤5

≤5

6"

152

154-157

0.138±0.012

3.50±0.30

250

750

≤5

≤5

6"

152

154-157

0.165±0.012

4.20±0.30

300

900

≤5

≤5

8"

204

204-207

0.157±0.012

4.00±0.30

200

600

≤5

≤5

8"

204

204-207

0.165±0.012

4.20±0.30

300

900

≤5

≤5

8"

204

204-207

0.197±0.012

5.00±0.30

400

1200

≤5

≤5

10"

254

254-257

0.173±0.016

4.40±0.40

200

600

≤5

≤5

10"

254

254-257

0.177±0.016

4.50±0.40

300

900

≤5

≤5

12"

306

306-311

0.157±0.016

4.00±0.40

150

450

≤5

≤5

12"

306

306-311

0.177±0.016

4.50±0.40

200

600

≤5

≤5

14"

356

356-360

0.189±0.016

4.80±0.40

150

450

≤5

≤5

16"

400

406-411

0.181±0.016

4.60±0.40

100

300

≤5

≤5
Get the latest price? We'll respond as soon as possible(within 12 hours)